Real Estate Broker Licensing Course
EXPERIENCE REQUIREMENT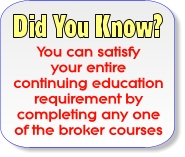 The experience requirement for licensure as a broker requires the applicant to demonstrate a commitment to real estate brokerage as their primary vocation, as evidenced by their involvement in the real estate brokerage business on a full-time basis. Applicants must have been continually licensed and employed as a real estate salesperson during the three years immediately preceding their application. To demonstrate full-time employment the applicant must show that they have worked as a salesperson under the authority of a broker for at least 40 hours per week during the hours of approximately 10:00 A.M. to 8:00 P.M. during any five days of each week. If the applicant was employed in any other occupation during the three year period, such other employment must not have exceeded 25 hours per week. If you need to verify your license status you should do so before enrolling in the broker course. You may download the necessary form at here.
COURSE REQUIREMENT
A broker license candidate must first successfully complete courses of study in real estate consisting of a minimum of 150 hours. The 150 hours is divided into three separate courses: a 90 hour general real estate broker course, a 30 hour course on brokers' ethics and agency law and relationships, and a second 30 hour course on office management and related topics. All three courses of instruction must be completed within a period of two years.
[ Home ] [ Course Schedule ]

Don't take your real estate test without first using ProRealEstateExam.com.
New Jersey's premier online exam prep tool containing hundreds of actual multiple choice test questions.
Prerequisites
for obtaining a real estate broker license
At a Glance
18 years of age

High school education or the equivalent

3 years full-time experience as a licensed salesperson

Complete approved courses totaling 150 hours

Pass state examination
U.S. citizenship or legal alien status

New Jersey residency is not required
---
BROKERS
Join our company email list to have schedules emailed to your office
Broker Email List